We Sell Used LCD Monitors At Seattle Laptop
Used LCD Monitors For Sale
Large Selection Of Used LCD's Always: Seattle Laptop always carries in stock a large selection of used LCD Monitors. These used computer screens work for both desktop and laptop computers. Our store sells a lot of used monitors so we try to keep a nice inventory, and lots of choices for our customers at all times. We carry used LCD Monitors from 15" to 27" and possibly larger sometimes. Our used monitors are all marked with what kind of video connectors they have on the back. When you are shopping for a used LCD Monitor at Seattle Laptop you can easily choose the one you like by the listed connectors, and our needs. There really aren't many places around the Seattle Area that actually has as good of selection of LCD's to choose from. Also, if you happen to be looking for a local computer store around Seattle with a good selection of Used LCD Monitors For Sale, you don't have to look any more.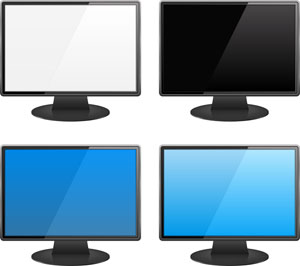 HDMI - VGA - DVI - Display Port:
All of our used LCD Monitors at Seattle Laptop will have more than one video connector on the back. You need to let our staff know what kind of connectors you have on your video card, so we can find you the right monitor. As we all know there are many types of video connectors. You will need to let us know what kind of connector you have on the back of your video card. We can then determine what video cable you may need. We recommend taking pictures of your video card connectors on the back of your desktop. That way we will know what type of video cable to give to supply your with. Used Monitors All Come With Video Cables: All of the LCD Monitors we have will always come with a free video cable of your choice.
Used Computers For Sale:
We have a very good selection of used desktop computers in stock. If you come into our store to buy a Used LCD by all means, check out our Used Computers
Used Computers For Sale
that we have ready for deployment on display. All used computers sold by Seattle Laptop have a 30 day warranty.
Seattle Laptop Inc. 7525 Aurora Ave N. Seattle WA 98103.
Call 206-784-4215
We are open:
11 - 4 Tuesday - Sat
Closed - Sunday - Monday