Seattle Laptop, The Laptop Experts!
Over 50,000 Laptops Serviced!
Seattle Laptop Business Services
Seattle Laptop Wants to Help Your Business! : The management of Seattle Laptop understand that there is more to serving, and helping our customers than simply selling them a good laptop, repairing their laptops, and serving all their laptop needs. Many of our customers own business, and could use a little help steering people to their websites, and promoting their products and services.
Seattle Laptop's Web Team are qualified SEO (Search Engine Optimization) experts. We are more than happy to use our vast SEO experience helping our customers drive traffic to their websites. At the time of this article SeattleLaptop.com ranked 12th out of 17 million web pages for the search term Laptop Repair. This is amazing considering the fact that we don't even have a direct hit domain name. This is not an accident. It is a direct result of years of hard work, and patience.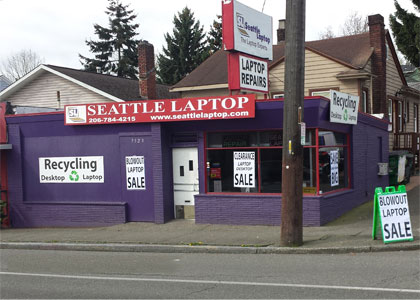 The Web Team at Seattle Laptop has started working on a few SEO friendly business directory websites for our customers in the Seattle Area, and across Washington State. Our goal is to provide "quality" links to our customer's websites, and help the with simple things like meta tags and keyword rich content. Remember, the more links you have to your website from quality businesses the higher you will rise in the search engines. We also hope to have our Business Directory promote our customer's businesses through the Search Engines finding their listings in our directory. In many cases a web user looking for a service one of our clients provides may find our page on their business ahead of their business. It is just one more way we plan on helping everyone.
As we develop our Business Directories we will be providing SEO information to our customers, and visitors to our website.
If your business has a website we encourage you to list your business in our directory, and help us help you, and your business. We will constantly be updating our directory with newer versions and face lifts.
Please click on the links below and register your business. Remember, these directories are under construction. The sooner you list your business the sooner Google's bot can index your information. Please invite your friends, and family to list their businesses too!
Seattle Business Directory- Our newest addition
Washington Business Directory - Not live yet. Coming soon!
Seattle Laptop Inc. 7525 Aurora Ave N. Seattle WA 98103.
Call 206-784-4215
We are open:
11 - 4 Tuesday - Sat
Closed - Sunday - Monday