Seattle Laptop - Desktop Computer Repair In Seattle
Desktop Computer Repair
Seattle Laptop Repairs Desktop Computers: For many years Seattle Laptop has been repairing, and upgrading desktop computers. This includes personal comptuers, gaming computers, and business, and also custom built computers. Because we repair desktops, Seattle Laptop carries a large inventory of desktop motherboards, power supplies, processors, video cards, and ram for testing purposes. We can usually diagnose and repair just about any kind of desktop computer problem quickly, regardless what the problem is. Desktop Computer Repair experts are on staff. We can repair a proglem computer fast if necessary. Check out our - Express Service - and our - Red Carpet Service - for more information about ultra fast computer repair service.
Hard Drive Upgrades And Cloning: Seattle Laptop also performs computer hard drive upgrades. We can in most cases clone your hard drive to a larger or faster hard drive. Many of our customers want to upgrade to a new SSD to improve performance. Call any time to discuss hard drive upgrade options, and our hard drive cloning service.
Data Backup Service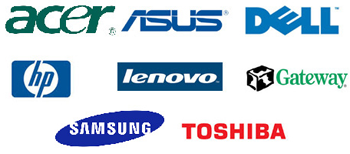 Data Backup For Desktop Computers: We also have affordable data back-up and data recovery services. If your desktop computer is not booting up we can in most cases back up your data. Even if your hard drive is failing we can either do a data backup, or data recovery. If your computer is not turning on, and you would just like to get your data bring it into our store, and check it in. If you have an external hard drive to put your data on bring that to. We can back up your data and recycle your old computer if you would like. Our data backup prices are reasonable, and our service is guaranteed. Seattle Laptop has been repairing computers, and backing up data for over 25 years. - More about computer repair by Seattle Laptop Inc.
Computer Motherboard Repair
Computer Motherboard Repair: Many desktop computers that may need a repair will have proprietary power supplies, obscure motherboards, and other parts that may go bad. Sometimes replacing these parts to perform a computer repair can be very expensive. In many cases Seattle Laptop can actually repair the problem with a failed part like a damaged motherboard. Repairing a bad motherboard is far less expensive than replacing it. We replace capacitors, filters and other components to do motherboard repair on many desktop computers, and of course laptops. When we claim we do computer repair this means motherboard repair.
Free Desktop Repair Consulting: If your desktop computer is having problems, and needs repaired, you can bring it in, and at no charge we will plug it in, turn it on, check it out, and discuss the many repair options available. Seattle Laptop's staff will plug in your computer, and turn it on if it does power on, and see what kinds of problems it is experiencing. We will try to figure out what options would make the most sense for our customers when it comes to repairing their computers.
Desktop Computer Data Backup: Seattle Laptop also can back up a customer's data, and then reload their operating systems such as Windows 7, Windows 10, and Windows 11. We can also fix software problems, Windows corruption, and problems caused by a failed Windows update. If your desktop computer is having problems and needs repair give Seattle Laptop a call. We have been repairing computers and laptops as well as Macs for over 25 years now.

Computer Video Card Repair: One of the common problems with desktop computers that need repair is a failing or bad video card. We have in stock a number of video cards to do computer testing with, and to sell. We perform video card repair. Read more about our Laptop Video Card Repair here.
CPU / Processor Upgrades: A lot of newer computers have motherboards that can handle a processor upgrade. Our customers can purchase a new cpu, and in many cases sell their old one. For not a lot of expense, they can get a faster computer. We do processor upgrades at Seattle Laptop.
Desktop Liquid Cooler Repair: Over time liquid coolers in high end and gaming computers fail, or they can begin to leak. Sometimes the liquid cooler's pump can fail, and then the liquid cooling system need replaced. We perform this type of liquid cooler repair on desktop computers. In some cases a computer can have heat problems and need the cooling system upgraded and a liquid cooler installed to increase performance of the cooling capabilities. Our techs install, repair, and upgrade to liquid coolers quite often. We carry liquid cooling assemblies in stock at all times for repairs.
Power Supply Repair
Computer Power Supply Repair: When we get a computer checked in for repair that does not power on, in many cases the problem is the power supply. Replacing a bad power supply to repair a computer is far easier, and less expensive than replacing a bad motherboard. Seattle Laptop keeps in stock a huge inventory of desktop power supplies of many types to quickly repair computers. Many computers have proprietary power supplies, and having the many different types and models in stock assists our techs in quickly identifying computer problems, and then repairing them when necessary. We offer quick turn around on computer repairs, and this is one of the many reasons that allow us to help our customers who need a power supply replaced to make their desktop computer work.
Computer Fan Repair: Over time fans in desktop computers begin to make noise, and then they can fail. We replace bad computer and laptop fans constantly. We carry in stock fans for many types of desktop and laptop computers. Fan repair is one of the more common things we do. If your computer or laptop needs a new fan check it in, and we can replace it for an affordable price.
Macbook Repair Service
Mac iMac And Macbook Repair: We fix Mac computers. From the first days we have been open we have been repairing Apple Computers. We started with Powerbooks and MacIntosh Computers. Now it is iMacs, Macbooks, Mac Pros, Mac Minis and all their models and years. We are Mac Computer Repair Experts, and have most common parts in stock to repair Macs quickly, and for great prices.
Macbook Battery Repair / Replacement: We specialize in Macbook repair. This means we replace a lot of Macbook batteries. After 3 to 5 years the batteries in almost all laptops and Macbooks go bad. Unfortunately the battery is held in place in a Macbook with adhesive. Replacing the battery is quite a job. We replace bad Macbook batteries all of the time. We do this Macbook Repair so often we inventory batteries for all the different Macbook models. Retina, Air, and Macbook Pro. Even the 12". We have the batteries in stock, and can repair your Macbook's battery fast. Have a "replace now" or "service battery" message in the power problems? Bring in your Macbook, and we will replace the bad battery before it begins to swell up and cause problems! More about Macbook Battery Repair Here

CD Rom Repair: Many of our customers still use CD's, and when their CD Drive fails, we can replace them. The cost of a CD Drive repair is not very high.
Hard Drive Repair: Seattle Laptop replaces bad hard drives in computers. If your computer is turning on but not booting to Windows or is blue screening your hard drive may be failing. When this happens we normally test your hard drive. If it is found to be failing, or we suspect it is failing we can replace your bad hard drive to repair the computer. Once we have installed a new hard drive we then will load a new copy of Windows, and in most cases back up your data if requested. As long as the hard drive has not completely failed copying your data is not usually that difficult. If you think you computer's hard drive is going bad, and the computer still works we recommend backing up all your data if possible before you bring in your computer for repair. Repairing bad hard drives for customers is a repair we do many times a day at Seattle Laptop. All hard drives go bad. Please back up your important data often.
Computer Bios Flashing: On some motherboards it is not that easy to flash the bios. If you need your bios flashed and do not feel comfortable doing it yourself we can help you. Bring in your computer and check it in, and ask for a flash to the newest bios. We are happy to assist.
Gaming Computer Repair
Gaming Computer Repair: Many of the computer repairs we do is troubleshooting problems on high end gaming computers. We are experienced in overclocking, video card options, and bios settings. Some of the newer motherboard have a fairly complicated bios and the settings need to be 100% right for the computer to perform at maximum capability. Some CPU's are better for overclocking than others. It is great having a friend in the computer repair business like Seattle Laptop who is experienced in setting up a bios for maximum stable performance. Read more about our Custom Computer Repair / Gaming Computer Repair here.
Repairing Ram Problems: Over time ram or memory in computers can deteriorate or go bad. Your ram that has worked fine in your computer for months or years may one day begin to fail, and this can cause all kinds of computer problems. When we diagnose desktop computers that have problems we usually check the ram first. Ram going bad happens more often than you might think. We are used to repairing computers with ram problems. We carry in stock many different brands, speeds, and types of desktop and laptop computer ram.
Laptop Hinge And Scereen Repair
Laptop Hinge Repair: With today's thinner and lightweight laptops more and more laptop hinges are breaking. In some cases we have had customers with broken laptop hinges on laptops less than one year old. Many models are not built very sturdy, and their hinges break. There are a few models we see a lot with broken hinges. We repair laptops with broken hinges, and broken screens. When we repair the hinge, we usually loosen the tension so it won't break again. We not only repair the hinges, we fix the problem!
We Fix Computers: Yes we are Seattle Laptop. The number one place in the Pacific Northwest to have a laptop repaired, or purchase a good refurbished laptop. We do however perform many different types of desktop and gaming computer repairs. We have been repairing computers in Seattle for over 25 years. If your computer is having problems call us, or bring it in for repair.
Computer Service Seattle: Visit our information site by clicking Computer Service Information or on the image below.

Seattle Laptop Inc. 7525 Aurora Ave N. Seattle WA 98103.
Call 206-784-4215
We are open:
11 - 4 Tuesday - Sat
Closed - Sunday - Monday