Seattle Laptop, The Laptop Experts! Over 50,000 Laptops Serviced!
Find Seattle Laptop - Laptop Repair .net
Directions To Seattle Laptop : Take I - 5, North, or South, and then take the 85th St exit. There are no lights just follow the offramp from both directions down the hill. Be careful taking the exit. The offramps have sharp turns from both directions.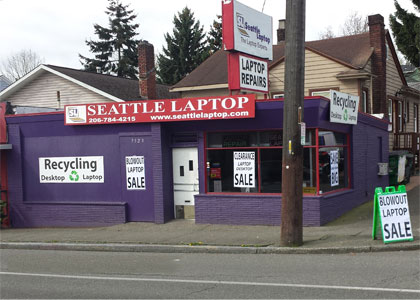 After traveling 4 or 5 blocks take a left (go South) on Aurora Ave N. Travel 9 blocks to 76th St, and we are on the corner of 76th St and Aurora, on the right hand (West) side of the street. Park anywhere.
Seattle Laptop is located 2 blocks North of Greenlake, 1 block North of Beth's Cafe, and across the street from PCC Natural Markets. Parking is available in the parking lot north of our building, on Aurora Ave between 76th Street and 77th Street, or after taking a right turn onto 76th Street.
Seattle Laptop Inc. 7525 Aurora Ave N. Seattle WA 98103.
Call 206-784-4215
We are open:
11 - 4 Tuesday - Sat
Closed - Sunday - Monday