Seattle Laptop, The Laptop Experts!
Over 50,000 Laptops Serviced!
Laptop Repair Information
Customer Laptop Repair Information : Seattle Laptop has written some brief summaries below describing many of the more common types of laptop repairs we perform. We prefer our customers read the information below pertaining to their specific type of laptop problem, so they can become familiar with our repair processes. The more a customer understands about what we face when we attempt to solve their laptop problems the better it is for everyone involved.
We truly enjoy educating our customers on laptop maintenance, and laptop care, and what may be involved in repairing their laptop if it does develop problems. Be sure to read our Laptop Maintenance document too!
More Laptop Repair Information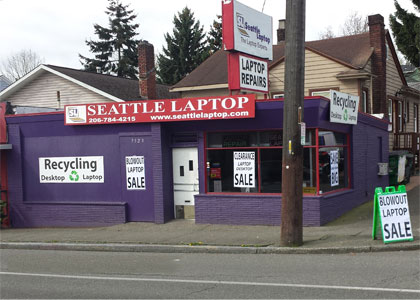 Customer Satisfaction : The Seattle Laptop Team promises to do everything we can to be sure our customer's laptop is fixed quickly, and properly the first time. We have been selling, and repairing laptops since 1996, and making sure our customers are extremely satisfied with our service is our number one goal.
Experience Pays : Between the 50,000 plus customer's laptops we have repaired, and the tens of thousands we have sold in our store, and we have supported over the years, our Laptop Repair Technicians have seen just about every kind of laptop problem imaginable. We do such a large volume of laptop repairs that we see many similar laptops with exactly the same problem repeatedly. Since we do laptop system board repair, we find that quite often the same component fails on similar machines. We can many times quickly locate and repair the system board problem without spending much "diagnostic" time, since we know where to look for the problem. This saves our customers money, and time. Our laptop repair technicians do extensive research on laptop system board failures, and are capable of fixing almost any type of problem.
Power Jack Repair Plus : We specialize in power jack, system board repair. We carry the power jacks in stock for most laptop models, and have the proper equipment for this type of system board repair. When a power jack breaks it can short out the system board, and damage it so just installing a new power jack will not fix a customer's laptop. We trace down the damaged components on the system board, repair them, and have an unmatched success rate on our power jack repairs.
Laptop System Board Repair : A laptop's system board can fail for a number of reasons. The technicians at Seattle Laptop can repair all types of system board problems. From liquid damage, to power surge damage. From "I dropped my laptop" to "I smell smoke" and so on. If you need your laptop, or your customer's laptop repaired, we can fix it!
Information On All Types Of Laptop Repairs
Laptop Repair - Cracked Screen - Information about repairing laptops with cracked screens
Laptop Repair - Screen Problems - Information about repairing laptops with different types of screen problems
Laptop Repair - Dim Screen - Information about troubleshooting and repairing laptops with a dim screen
Laptop Repair - Power Problems - Information about troubleshooting and repairing laptops that don't turn on or power up
Laptop Repair - Laptop Won't Load Windows - Information about repairing laptops that won't boot into Windows or the Mac OS, or have error messages, and blue screens
Laptop Repair - Laptop Randomly Freezes - Information about repairing laptops that freeze, crash, or blue screen
Laptop Repair - Laptop Graphics Card Repair / Laptop Video Card Repair - Desktop Graphics Card Repair - Information about repairing both laptop and also desktop video cards and laptop graphics card repair - We repair desktop video cards
Laptop Repair - Liquid Damage Repair - Information about repairing laptops damaged by liquids
Laptop Repair - Laptop Virus Removal - Information about repairing laptops infected by viruses
Laptop Repair - CPU Fan Replacement - Information about replacing laptop cpu fans
Laptop Repair - Laptop Hinge Repair - Information about repairing or replacing laptop hinges
Laptop Repair - Data - Backing up a customer's data, and importing backups