Free Apple Recycling and Macbook Recycling in Seattle
Free Apple and Macbook Recycling in Seattle by Seattle Laptop: Seattle Laptop recycles Macbooks, iMacs, iPhones, and iPads for free. We will attempt to repair for re-use all Macs and Macbooks left to be recycled. Seattle Laptop does all we can to reduce landfill waste. We have been in the business of recycling Apple and PC computers Macbooks and laptops for over 20 years, and have recycled thousands of machines, and put them, or many of their parts back into service. If you have a Macbooks or iMac and you want to recycle it stop by. We are open 7 days a week.
All Apple Computers, and Macbooks left for recycling will have their hard drives securely wiped or they will be destroyed.
There is of course no charge for recycling Apple Macbooks iMacs or desktop and laptop computers.
Our company does corporate E-Waste recycling in the Greater Seattle area. If you or yor company has a quantity of Macs, laptops, or computers that need recycled and their data wiped, or other e-waste you can call us at 206-784-4215 and schedule a pickup. Seattle Laptop can provide a certificate of destruction for all the recycled computer's data if you would like.
Apple and Macbook Recycling in Seattle made easy! And safe!


Macbook iMac Data Wiping : Seattle Laptop guarantees to completely wipe all of the data from all Apple Computers, Macbooks, iMacs, desktops and laptops recycled at Seattle Laptop / Computer Recycling Seattle.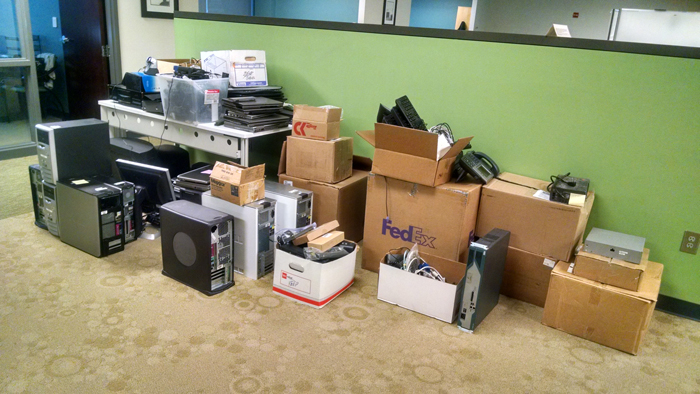 Corporate Computer Recycling : Seattle Laptop of course does corporate computer and laptop recycling. Please call us at 206-784-4215 to schedule an appointment, or schedule a pickup when it is convenient for your company. Seattle Laptop will pick up most of your corporate surplus Apple and PC computers, laptops, Macbooks, servers, switches, cables and just about everyting else you might have. Pretty much all E-Waste we can handle. Just remember Seattle Laptop can provide you with a certificate of destruction for all Mac, computer, and laptop hard drives we will wipe if necessary.
Seattle Laptop also performs audits of your recycled comptuers and Macs. We will record all your serial numbers, and other basic computer information as to the manufacturer, model, and other types of information before we remove the equipment if your company needs this information. We also record asset tag numbers on recycled computers, Macs, and laptops if necessary.
Other E-Waste Recycling: Many companies in the Seattle Area have other types of electronic E-Waste besides computers Macs and laptops they no longer use or need. They may want to find a responsible way to recycle these items. Pretty much every company will have e-waste and needs someone to recycle it. They may have small devices, electronics, surveying equipment, networking equipment, servers and racks, and other electronics. Seattle Laptop has in the past recycled all types of e-waste. Our company will provice free recycled computer pickup service in almost all cases. Seattle Laptop / Computer Recycling Seattle recycles more than just Macs laptops and desktops!
Medical Equipment Recycling In Seattle: Seattle Laptop / Computer Recycling Seattle also recycles used or defective medical equipment of all types. From ultrasound machines, and accessories to any size or shape of other medical devices. If your office or hospital has any items you need hauled off and recycled give Seattle Laptop a call.
Seattle Laptop Inc. 7525 Aurora Ave N. Seattle WA 98103.
Call 206-784-4215
We are open:
11 - 4 Tuesday - Sat
Closed - Sunday - Monday